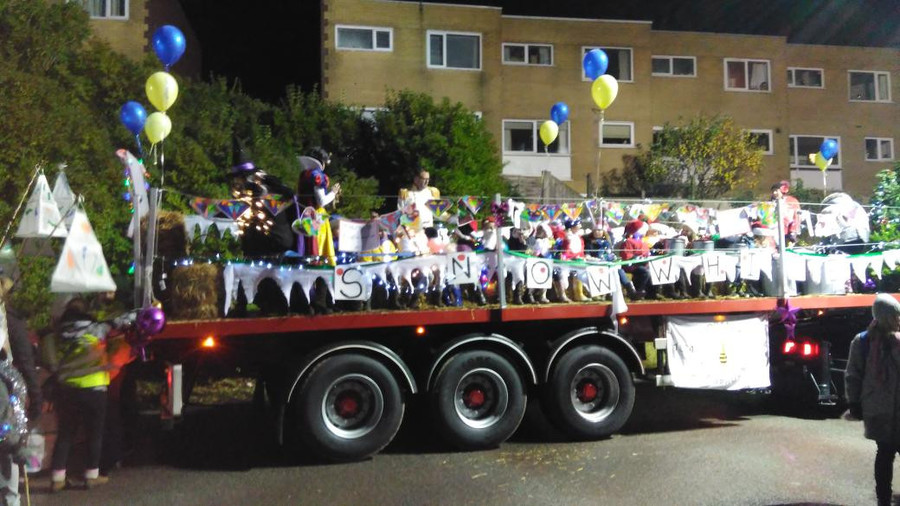 The Christmas Festival is always a central event in our school calendar and we help out with organising it. Preparing for the festival included making our Advent boxes for the village trail and Tolkien class making lanterns. This year the festival had the theme of Pantomime and was led by Father Christmas with Frodsham Pantomime Group which includes some of our children. Our pantomime was Snow White and the hundred or so dwarves! The float was decorated in rather chilly weather during the morning with Mrs Anstice onsite from 7.30am! Thanks for Mrs Deegan, Miss Hall, Mrs Brook and Mrs Pye for decorating it on the day and all TAs with Year 4 for making props.
During the afternoon we had a number of entertainment slots around the village which gave an opportunity for both key stages to perform under Mrs Emison's and Mrs Anstice's direction and we even had Jonty and Sophie playing the violin. Everyone looked amazing dressed as Snow White's dwarves. As it started to go dark we finished our final performance slot and headed to the parade line up. The Samba Gang lined up on the float ready to bring some musical accompaniment to the parade, Lewis Class also squeezed on. We then had Mrs Hughes dressed as Snow White, Mr Devereux-Roberts as the Prince and Miss Hopley as the Wicked Queen ready to wave to the crowds.
As always it was a great event, many thanks to all our families who were involved and to the event organisers.