France and Belgium 2015
Year 5 and 6 Residential
22nd-25th September 2015
Chateau d'Ebblinghem
Opal Coast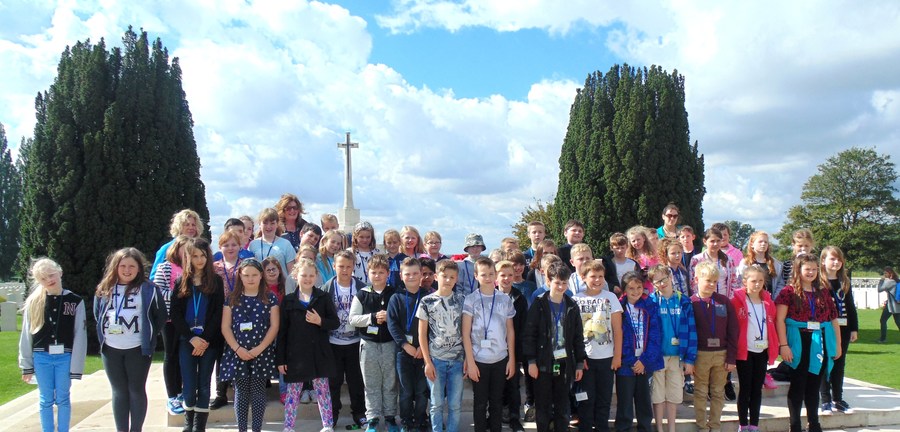 At the end of September we held our first residential trip abroad. We went to stay in northern France in an area called The Opal Coast at Chateau d'Ebblinghem. We had two days of travelling and two days of activities. Our first activity day took us across the border into Belgium where we spent the day around the Passchendaele and Ypres areas learning about World War One. The second activity day was a chance for us to try our our French language skills with a visit to a Chocolate Factory, Snail Farm and then shopping in Boulogne Sur La Mer. 53 children came on the visit accompanied by Miss Smith who had organised the trip, Mr Devereux-Roberts, Mrs Pye, Mrs Halliwell, Mr Burden (governor) and Mrs Anstice. Mark was our driver and Nat our NST host. We even got two shout outs on Radio Two from Simon Mayo!
Day 1.
We set off from Frodsham at 7.45am on a coach. We headed for Dover then crossed the channel on a ferry to Calais. We all had the opportunity to go up on deck and even had a sing song. We arrived at the Chateau a little later than expected but still in time for tea.

Day 2
This was a World War One focus day in Belgium and really helped to develop our understanding of what happened in World War One. We visited Passchendaele Museum where there were many exhibits, we watched a film and experienced the lay out of dug outs and trenches. After our picnic lunch we headed for Tyne Cot Commonwealth Cemetary. 35,000 soldiers are listed here on the Memorial to the Missing, alongside 20,000 burials including recipients of the Victoria Cross. We had time to peacefully walk around showing a great deal of respect. From here we headed to Langemark which is a German Cemetary. 44,000 soldiers are buried here in mass graves. After Langemark we went to Ypres which included a visit to the world famous Leonidas Chocolate Shop. Following our tasting and spending we went to pay our own tribute to the fallen on both sides of the war by laying a wreath at the Menin Gate and having a minute's silence.
Ypres 2015