Frodsham Manor House Primary School is an attractive Primary School formed on the 1st January 1994, by the amalgamation of the former Manor Junior and Orchard House Infant Schools and is situated on Langdale Way, Frodsham.
Our school vision is 'Hand in hand, we imagine, we believe and we achieve' and we do this by offering an exciting, themematic and rich curriculum in conjunction with a happy caring environment where all children can enjoy the learning process in an atmosphere of excitement, enthusiasm and support. Click here to find out more about our Vision.
Frodsham Manor House pupils, through dedicated support, develop a love of learning and portray all those wonderful skills and attributes that make you very proud of them. They are all wonderful ambassadors for the school and demonstrate empathy, compassion, enthusiasm and fun in all that they do and how they are with one another.
School has 217 pupils on roll and has an extremely supportive Governing Body and a parental community which supports their children superbly during their time at school. We welcome visitors so we can show them how we learn and how proud we are of our school.
Ian Devereux-Roberts
Head Teacher
The Buzz
Ian Devereux-Roberts (IDevereux-Roberts) on: The Buzz
What's in the news?
Mr Gormally (dad of Izzy and Ben) led a posse of Dads on Saturday 21st July on a climb up Mount Snowdon as a fundraiser event for our school MUGA. Proof of their success is captured in the photograph below. Many congratulations to Mr Gormally, Mr Wright, Mr Bresnen, Mr Winterburn, Mr Ryder and Mr Pennington. We look forward how much they have raised.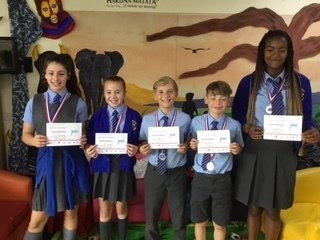 Having waited a week for verification, I am able to report that our Year 6 gymnastics squad were placed in the silver medal winning position at the recent Chehsire and Warrington School Games Finals in Macclesfield. Super congratulations to all members of the squad - Olly, Austin, Sara, Keira and Lola F. A Year 4 gymnastics squad also made it to the finals and came a credible 7th position - congratulations to Lois, Amelia, Oisin and Ethan for representing the school so superbly.
Our outgoing and incoming pupil leadership teams proudly accepted a cheque for £1250 from Frodsham Round Table on the last day of the school year. This donation is part of the successful completion of our school MUGA project.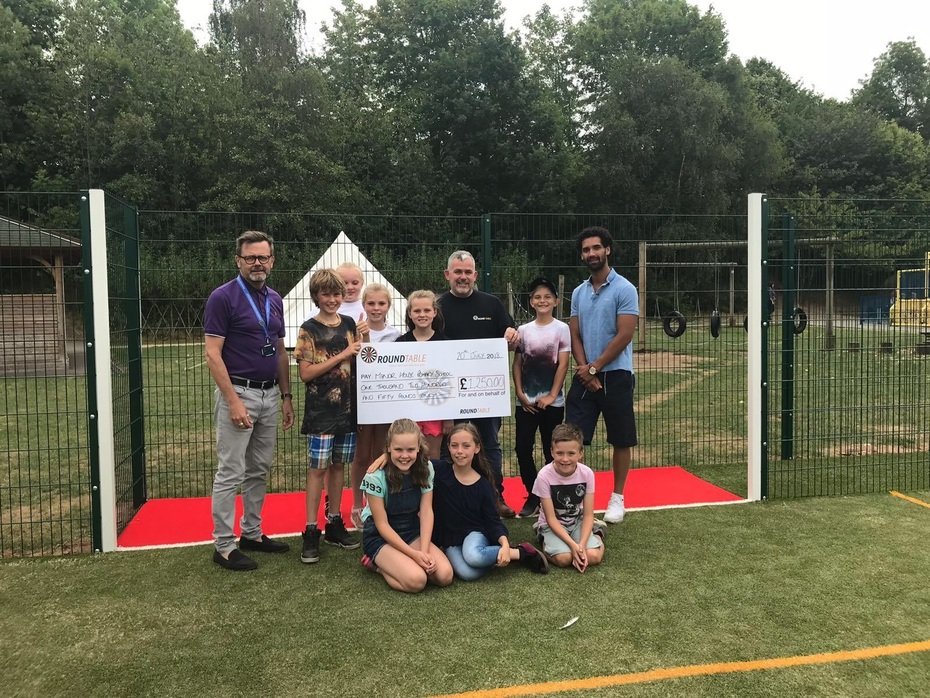 We wish Oliver, Honey and Lillia from Lewis Class every success and happiness in their new schools come September. Oliver is relocating to Portugal with his family so will be commencing at a school there and Lillia and Honey are moving to Kingsley Primary School. We also wish Mrs Roberts - mum of Natalya - every success in her first role as a teaching assistant come September . Having undertaken her placement experience with us in Year 2 for the last school year, whilst studying for a qualification, it was lovely to hear of her recent appointment.
On behalf of myself and members of the school staff, please can I extend our thanks for the cards and gifts that have been given so generously at the end of the school year.
What has happened in school this week?
On Monday morning our Head Boy and Head Girl, Austin and Megan, officially opened our school MUGA (multi-use games area) much to the delight of all the children in school. Having taken nearly two years of fundraising by the PTA, supported by individual fundraising projects and accessing Sports Premium funding, this addition to school will enhance all year round PE provision. We are thrilled to have this facility at school.
Monday afternoon saw us thanking parents who have helped in school over the past school year. With our Year 6s serving refreshments, our invited guests were also entertained by the children. It was, as always, a really lovely way of thanking parents for giving their time so generously.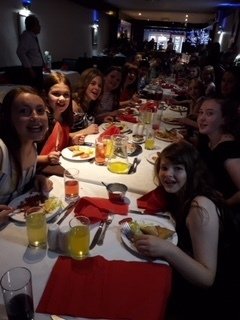 Tuesday evening saw our Year 6s being treated to their leaving meal at The India Garden in Frodsham. Accompanied by Mrs Pye, Miss Hall, Mrs Anstice, Mrs Hughes, Miss Bedford, Mr Kilborn and myself it was a real delight to share an Indian meal our class of leavers.
The leavers assembly on Thursday morning was once again an emotional rollercoaster but one also filled with much laughter. Hearing our Year 6s reflecting on their time with us is always lovely - how we forget about some of the things that have happened on this journey with us! As part of this celebration we presented all our Year 6s with a year book and a book entitled 'How to be awesome'. Mrs Pye had the pleasure of announcing the Meg and Harry Achievement Award recipient in the assembly also and I had the honour of presenting the award to Ella Carter. We wish all our Year 6 leavers every success and happiness in their respective high schools.
As the school year comes to an end please can I extend our thanks for your support, enthusiasm and commitment to all aspects of school life. Wishing all our school families and wonderful summer break and we look forward to welcoming the children back on September 4th.
What has made me smile this week?
The final week of the school year is always a very busy and emotional one. I am able to smile through all the busyness and emotion because of the reactions of the children. Thank you for making me smile not only this week but each and every day this year.
This week's Head Teacher's Awards:
Ryley (Carroll Class) for completing his reading bookmark.
Katie (Shakespeare Class) for showing exceptional kindness.
Edie (Milne Class) for being a brilliant artist and helping Mrs Hughes out.
Alfie P (Carroll Class) for completing his reading bookmark.
Erin (Carroll Class) for super behaviour.
George (Dahl Class) for his super reading progress.
Zach B (Carroll Class) for his excellent research skills.
Freddie (Carroll Class) for his super research booklet.
Harry (Shakespeare Class) for his maths work - comparing units of measure.
Zac C (Carroll Class) for his super research booklet.
Ethan (Milne Class) for completing his reading bookmark.
Our End of Term Celebration Assembly Superstars:
Milne Class: Jayvin for the incredible difference in his attitude to work this term and working his socks off.
Carrol Class: Will for his attitude and determination to all aspects of his learning.
Dahl Class: Harry for completing all aspects of his learning to the best of his ability and with enthusiasm.
Lewis Class: Kimberly for making excellent progress across all areas of her learning.
Shakespeare Class: Samuel for growing in maturity and always being extremely polite and well mannered.
Tolkien Class: Sophie for always giving 100% and producing work that is outstanding.
Mrs Anstice's selection: Lili-Jo for her excellent work in 'Hairspray'-
Our End of Summer Term Kindness Superstars: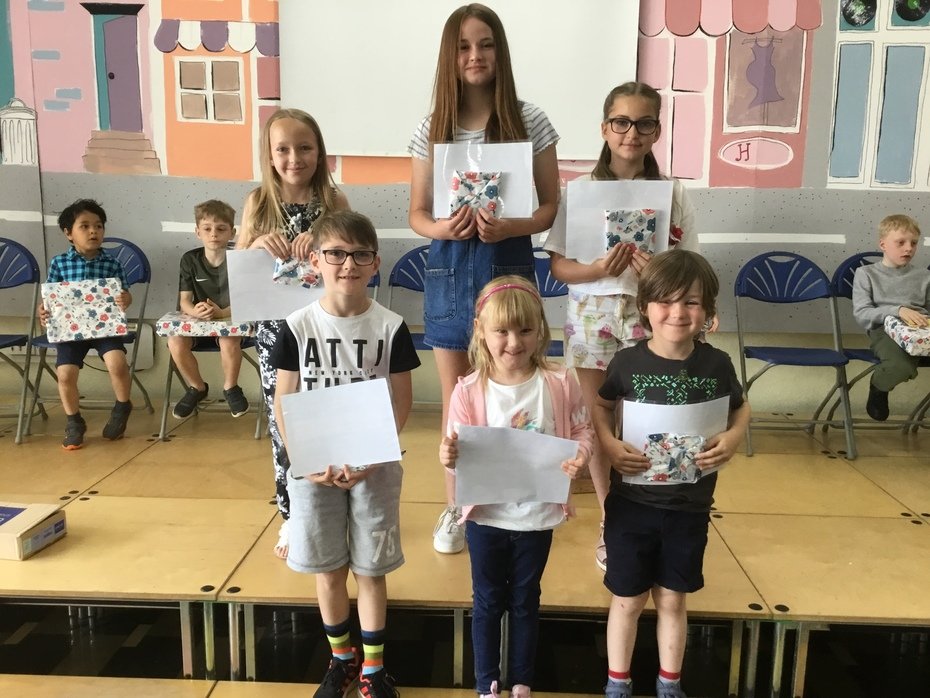 Milne Class: Scarlett
Potter Class: Jack J
Carroll Class: Jack O
Dahl Class: Owen
Lewis Class: Ella Carter
Shakespeare Class: Jess E
Tolkien Class: Eliza
The Winning House Team:
The winning house team for the summer term, was Coniston with 36 bars. Congratulations to everyone in the red team. The winning house team for the year was Penrith with 105 bars. Congratulations to everyone in the blue team. Coniston (red team) was in second position; with Thirlmere (green team) in third position and Grasmere (yellow team) in fourth position.
100% Attendance Certificates:
In assembly on Wednesday this week, we recognised the following children for having been in school every day for the whole of the current school year and presented them with a certificate and a voucher:
Jess B, Aysha, Ashton W-D, James B-H, Charlotte, Daisy B, Oisin, Ruby, Alfie D, Alfie J, Joseph, Rosi and Isla S
Good to Be Green Celebration:
Again in assembly on Wednesday, we acknowledged the significant number of pupils who remained green all year - in accordance with our behaviour management policy. A certificate and an enamel badge was presented to celebrate this achievement.
Friday Top Table:
The following children, with a friend, sat at the special dining table on Friday 20th July as they had been chosen by the Midday Assistants for exemplary manners and behaviour at lunchtime:
Sophie O (Milne); Chloe (Potter); Alfie L (Carroll); Rosi (Dahl); Honey (Lewis); Dylan (Shakespeare) and Olivia (Tolkien).
Happy Birthday:
In our Singing Assembly this week, we sang Happy Birthday to Mrs Read, Miss Hall Mrs Coman, Mrs Tidmarsh, Tobijah, Jospeh, Nancy, Nathan S, Alfoe L, James B-H, Dara, Jaxon, Oliva W, Tom W, Honey, Marnie, Danny, Joel, Ethan B, Mia B, Seth, Jamie, Jacob, Izzy G, Sam P, Marcus, Rosi, Natalya, Oisin, Rhys, Phoebe B, Sophie J and Jessie. Many happy returns from us all if you are celebrating your birthday during the summer break.
What we are looking forward to next week
Beginning our summer break and enjoying time with our family and friends.
---