Frodsham Manor House Primary School is an attractive Primary School formed on the 1st January 1994, by the amalgamation of the former Manor Junior and Orchard House Infant Schools and is situated on Langdale Way, Frodsham.
Our school vision is 'Hand in hand, we imagine, we believe and we achieve' and we do this by offering an exciting, themematic and rich curriculum in conjunction with a happy caring environment where all children can enjoy the learning process in an atmosphere of excitement, enthusiasm and support. Click here to find out more about our Vision.
Frodsham Manor House pupils, through dedicated support, develop a love of learning and portray all those wonderful skills and attributes that make you very proud of them. They are all wonderful ambassadors for the school and demonstrate empathy, compassion, enthusiasm and fun in all that they do and how they are with one another.
School has 217 pupils on roll and has an extremely supportive Governing Body and a parental community which supports their children superbly during their time at school. We welcome visitors so we can show them how we learn and how proud we are of our school.
Ian Devereux-Roberts
Head Teacher
The Buzz
Ian Devereux-Roberts (IDevereux-Roberts) on: The Buzz
What's in the news:


Thank you to the families who have taken time to complete the online parental questionnaire. We will be analysing the responses over the summer break and we will report back to parents on our return to school in September.
What has happened in school this week:
Monday saw the launch of a new RE syllabus for Cheshire West primary schools. Mrs Anstice hosted the event at Forest Hills which included a range of educational and faith based speakers including two of our own Year 6 RE Ambassadors who addresses 150 adults. Jessica and Katy gave a speech about the sort of lessons they experience in RE and what ideas they thought would be good for other schools to try. Well done both.
Mile Class completed the final school visit of the year by visiting the Sea Life Centre in Manchester on Monday. All the children had an amazing day.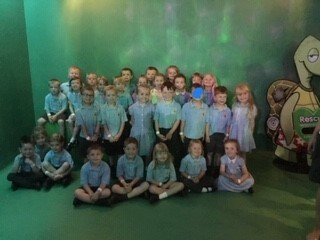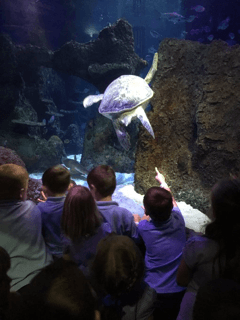 Dahl Class returned to Hob Hey Wood this week to see the progress of the trees they planted earlier on in the year. The sun came out for them and they all had a great time.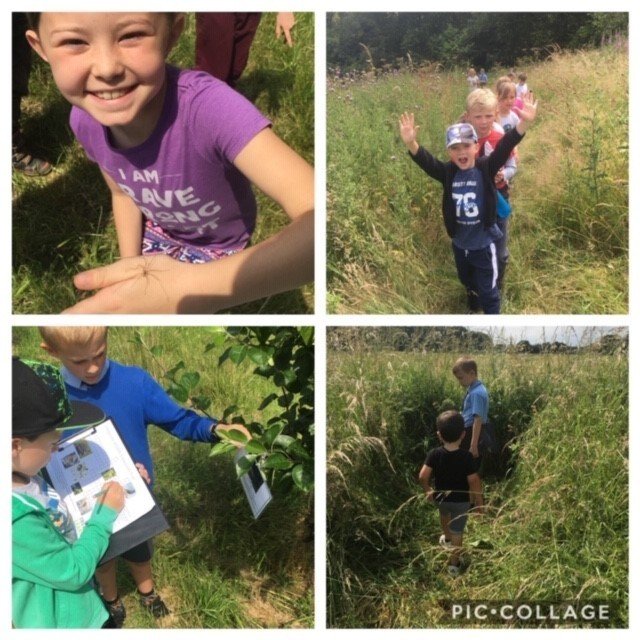 It was a real pleasure to accompany Tolkien Class to Little India on Monday evening and enjoy a lovely curry. The food was amazing as were the children. This event always signifies the countdown to Year 6's final days with us and is always a lovely evening.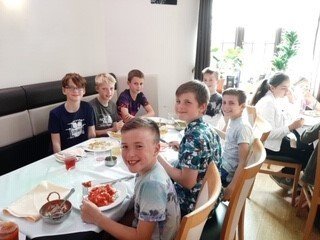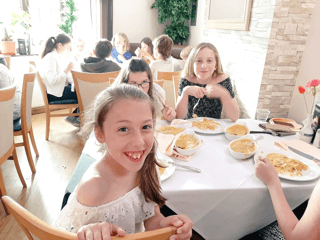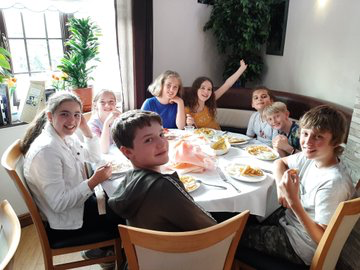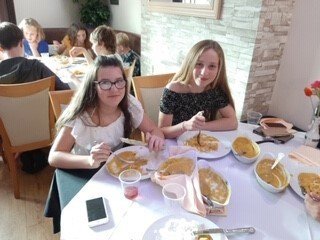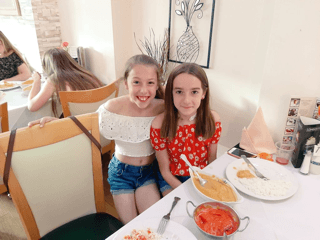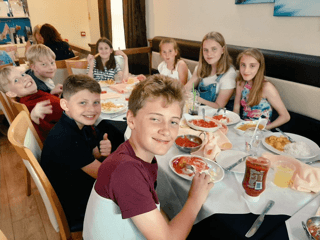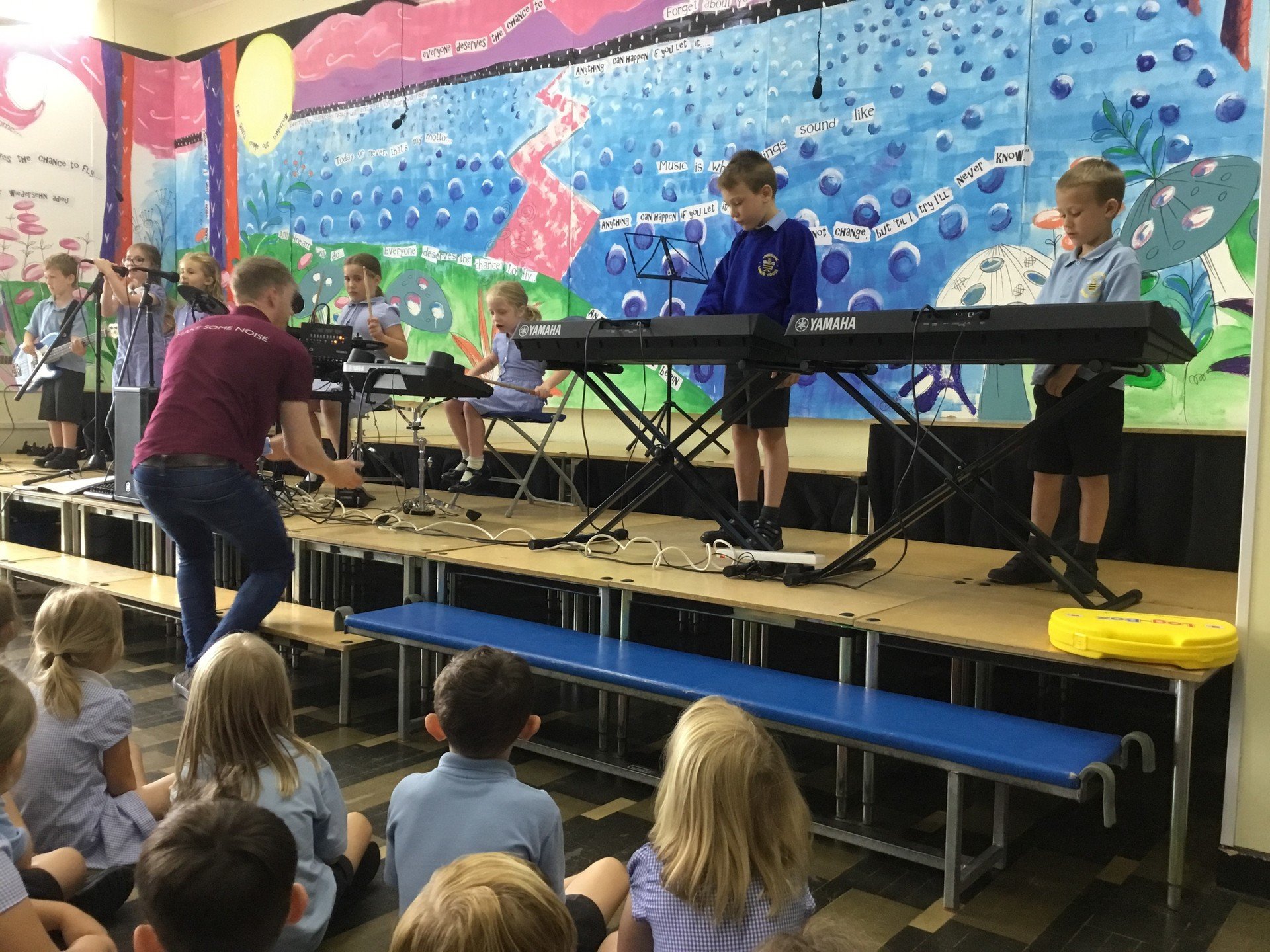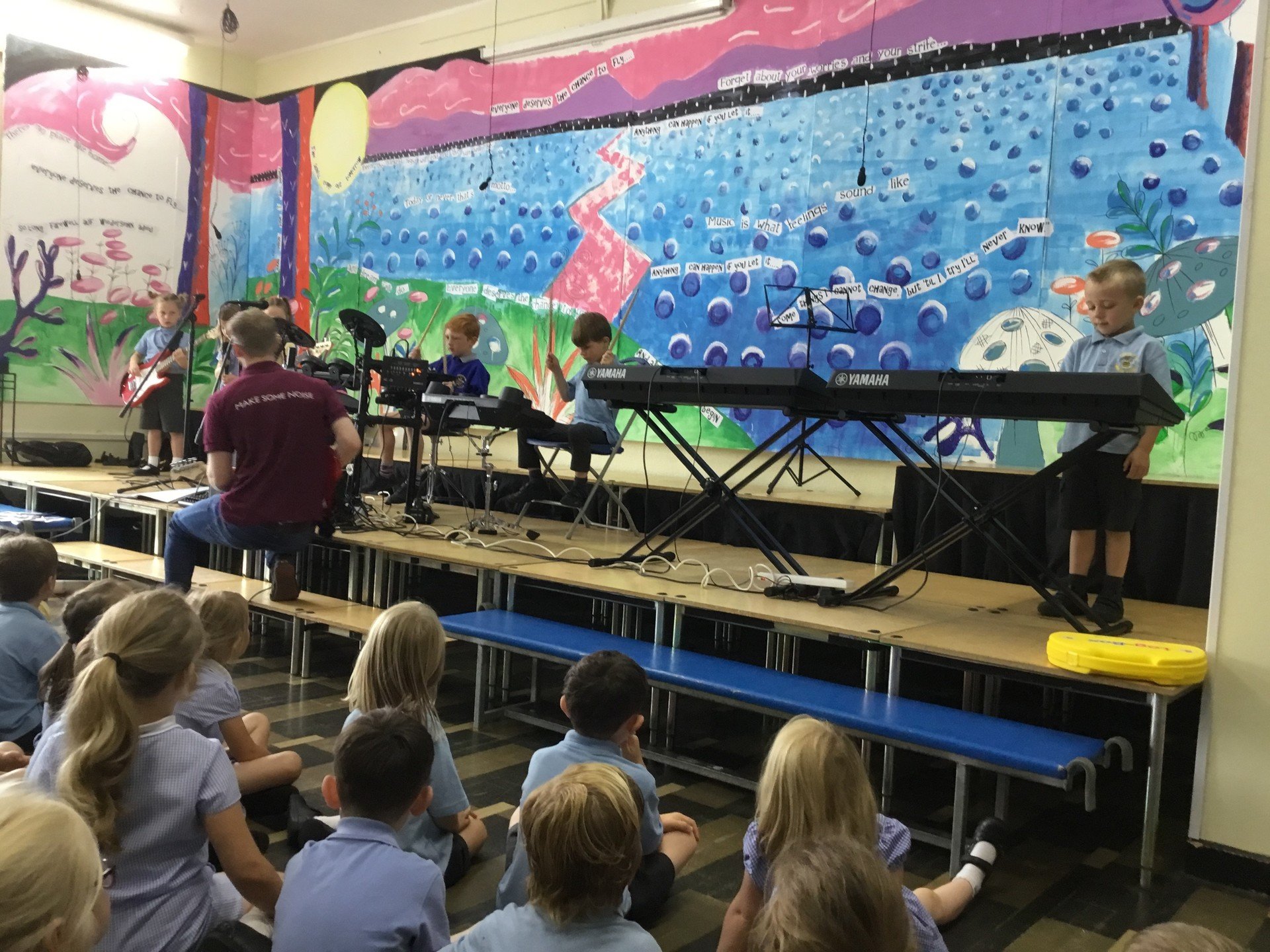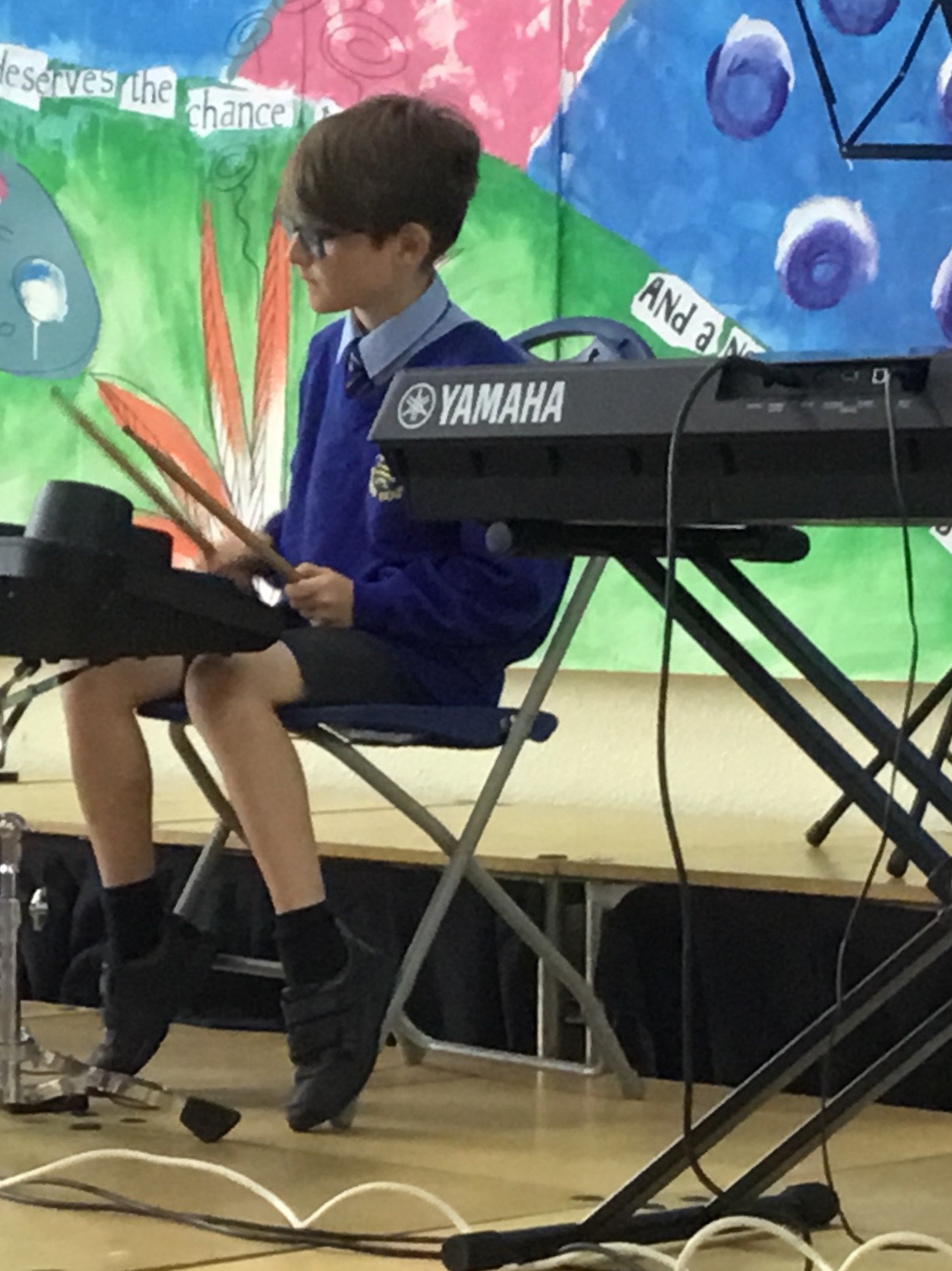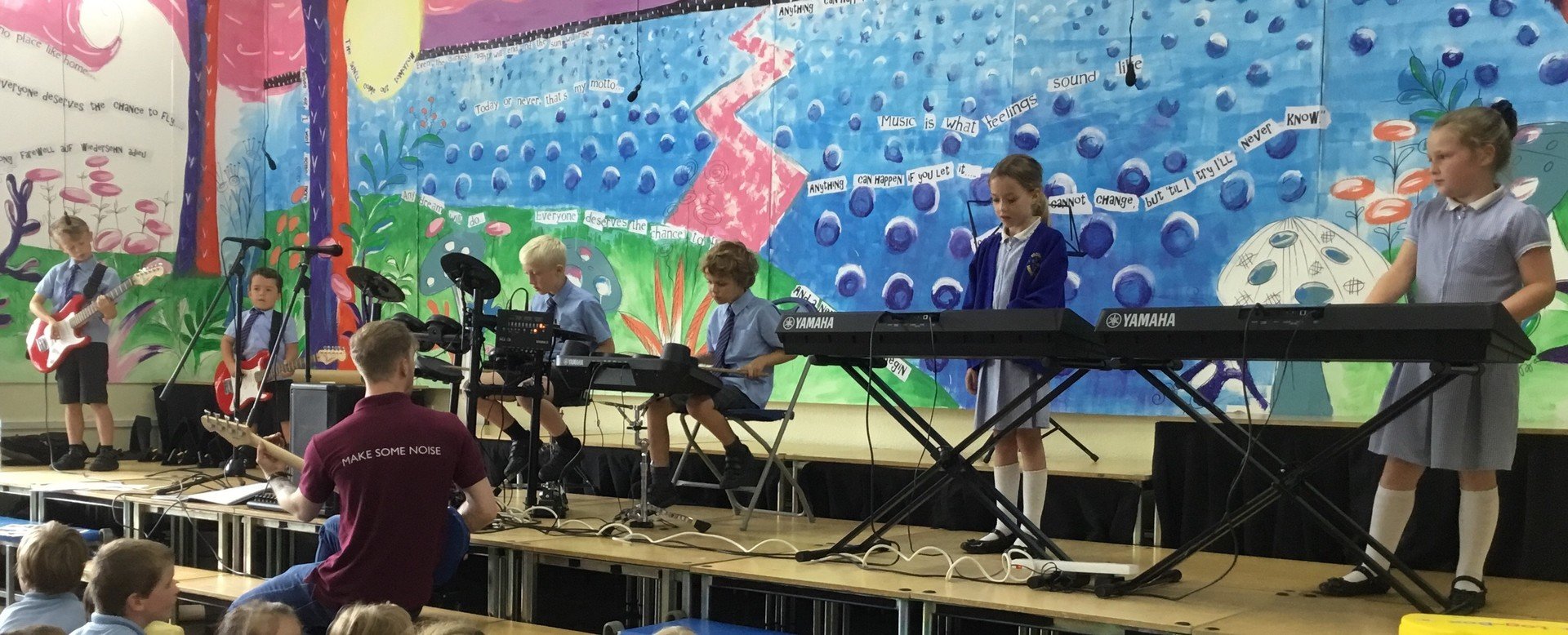 It was lovely watching our Rock Steady musicians demonstrating their rock star skills in a concert on Wednesday this week. All the children confidently shared all they had learnt in their lessons to a very appreciative audience. Well done guys!
For KS2, the week has been dominated by their 'Take Two' performances. It has been a real pleasure and privilege working on this project with the children. Although, it wasn't what we had initially planned for our end of year production, the responses and comments from audiences certainly made all the hard work worthwhile and pleasing that a different format had been thoroughly enjoyed by everyone who watched. It is no mean feat getting 120+ children performing we yet again we managed it, with amazing individual, emsemble, class and whole key stage performances. As I said each evening, my socks were well and truly blown off! We have wonderful children here at school who enjoy performing. Super well done to KS2 and to Mrs Anstice for working so hard with the children through all the rehearsals and then on the performance nights.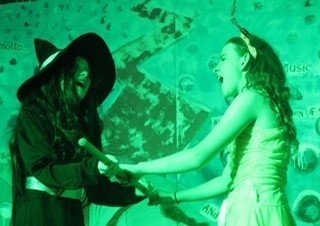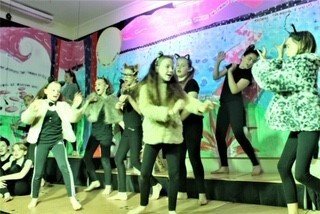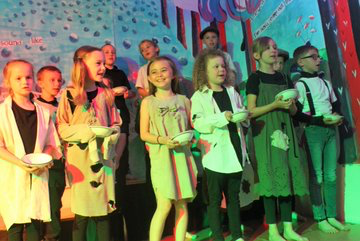 What has made me smile this week:
Seeing the whole of Ks2 performing in 'Take Two' made me smile each night of their performances. The energy and enthusiasm from al the children was evident for all to see.

Headteacher Awards:
Alfie (Dahl Class) for completing his reading bookmark.
Maddy (Tolkien Class) for being a great help to Mrs Hughes on transition days.
Mia (Dahl Class) for her super science work on plants.
Netti (Tolkien Class) for being a great help to staff on transition days.
Robyn and Bethany (Shakespeare Class) for their collaboratively produced informative leaflet on Brazil.
Mia E (Lewis Class) for being a brave big sister this week,
Ethan (Potter Class) for being a super helper and for his beautiful manners.
Ben (Dahl Class) for being a huge help to Miss Kelly and undertaking lots of jobs in the classroom.
Danny (Dahl Class) for his 'Take Two' bravery.
Austin (Tolkien Class) for his super home learning on the human body.
Indy (Tolkien Class) for being a superb last minute stand-in.
Zac O, Molly W, Alyssa, Oisin, Harry C, Marcus and George C for their awesomeness in our 'Take Two rehearsals and performances.
Edie (Potter Class) for completing her reading bookmark.

Presentation Awards:
Zac (Tolkien Class) for his science work on healthy eating.

Our Celebration Assembly superstars:
Milne Class: Nathan for working really hard and being determined and trying his best.
Potter Class: Poppy for being amazing in forest school sessions and for working really hard.
Carroll Class: Jack J for overcoming lots of challenges and for being funny and kind.
Dahl Class: Ava for being a bundle of energy and good in literacy sessions
Lewis Class: Fred for his maturity, honesty, kindness and organisation skills.
Shakespeare Class: Rhys for being a bundle of energy and working so hard in all rehearsals and performances.
Tolkien Class: Maddy for her amazing science work and for being having a super attitude to learning.
Mrs Anstice's choice: Elliott B (Lewis Class) for being an absolute superstar in all 'Take Two' rehearsals and performances.

Sporting Achievements:
Super well done to Liam (Lewis Class) for being selected to play in the newly formed district U10s football team, following recent trials. Although not selected, Joshua and Oscar (Lewis Class) also took part in the trials. Well done to al three guys!

The Winning House Team:
The winning house team for this week was blue team (Penrith) with 585 points: red team (Coniston) second with 564 points; green team (Thirlmere) third with 530 points and yellow team (Grasmere) fourth with 510 points. Congratulations to everyone in blue team for this week and for being the winning team for the Summer Term.
The winning house team for the school year is Coniston (Red Team) with 79 bars; Penrith (Blue team) second with 78 bars; Grasmere (Yellow team) with 77 bars and Thirlmere (Green Team) fourth with 60 bars. What a close contest it has been this year - super congratulations to everyone in red team.
Happy Birthday:

In our special Celebration Assembly, we sang Happy Birthday to Amelia P, Ellie S, Tobijah, Joseph K, Nancy and Nathan S. Many happy returns from us all if you have celebrated your birthday this week and next too.

What we are looking forward to next week:
Year 6 Leavers Assembly - Monday 22nd July @ 9am.
Year 6 leavers lunch - Monday 22nd July.
Claire House Colour Run - Monday 22nd July @ 2.15pm.
Parental Conferences - morning of Tuesday 23rd July
Final Assembly of the year - Wednesday 24th July @ 9am
BREAK FOR SUMMER - WEDNESDAY 24TH JULY @ 1.30PM.
---