Crime Scene
A forensic science themed week
Whole school
6-10th March 2017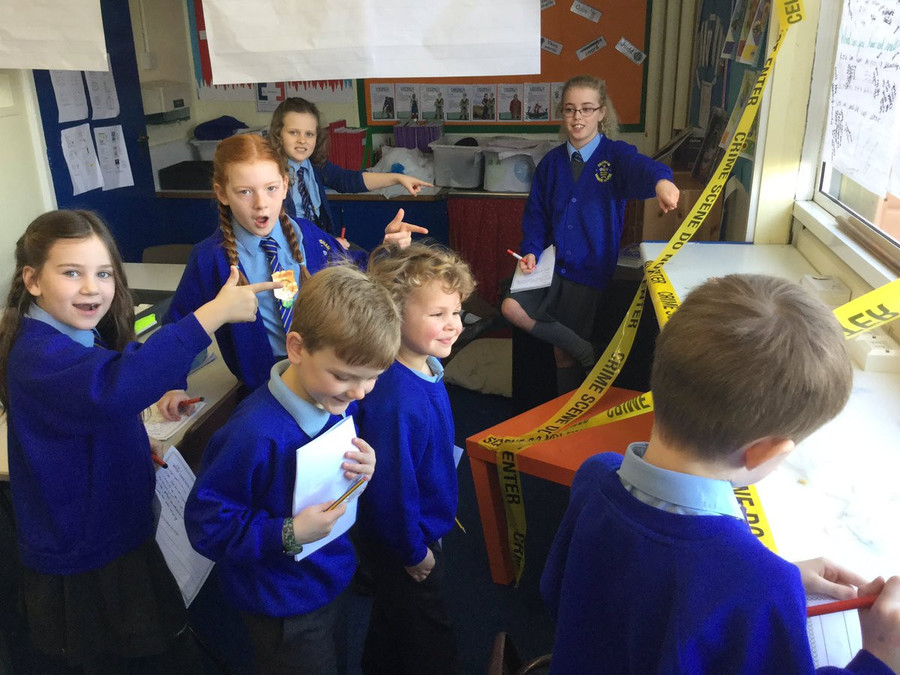 On Monday 6th March all children arrived in school to face their very own crime scenes set up in each class. All of the school laptops had been stolen over the weekend but an evidence trail had been left behind. All classes were called to an emergency briefing in the hall where we were told by Mr Devereux-Roberts that the police had already visited and made all the evidence safe for us to explore but we needed to do so carefully. We were also told that P.C. Matthews was on his way from Chester who was to help with our investigations throughout the week.
The first session of the week was all classes exploring each other's crime scenes, adding more clues to their evidence sheets as they went along. They also started to interview some of the suspects. Key evidence at this stage included tools, musical instruments, chocolate cake crumbs, muddy footprints, keys, cross stitch cushions, cleaning gloves and blue hair. By the end of Day One pupils had their list of suspects which was presented in the hall. At this stage we were keeping our minds open as we knew there was a lot of further evidence to test during the week, but at the moment Miss Hopley, Mrs Pierce, Mr McCarvell, Mrs Anstice and Mr Devereux-Roberts were all on our lists.
This page uses slideshows which may not work on all mobile devices.
Science Skills
All classes took part in a range of pupil led forensic science enquiries which included measuring height and footprints, seeing how bit marks change in an apple over time, handwriting analysis, chromatography with the ink, finger printing, testing soil and chocolate cake samples and learniing about DNA samples. Mrs Smith also came to talk to some classes about her work in Forensic Science. Milne Class took part in Spy training including breaking codes and tackling an assault course. See class science in action in the photographic slide shows on this page and ask the pupils to explain what they did.
British Values - Rule of Law
Throughout the week P.C Matthews visited most days working with all classes to develop their skills so that the evidence was not contaminated. He also taught us all about the role of the police, the steps which are taken to bring evidence to court, staying safe and ringing 999. Mrs Anstice worked with all classes explaining the legal terms we would be using and about how a crown court works.
Crime Scene Week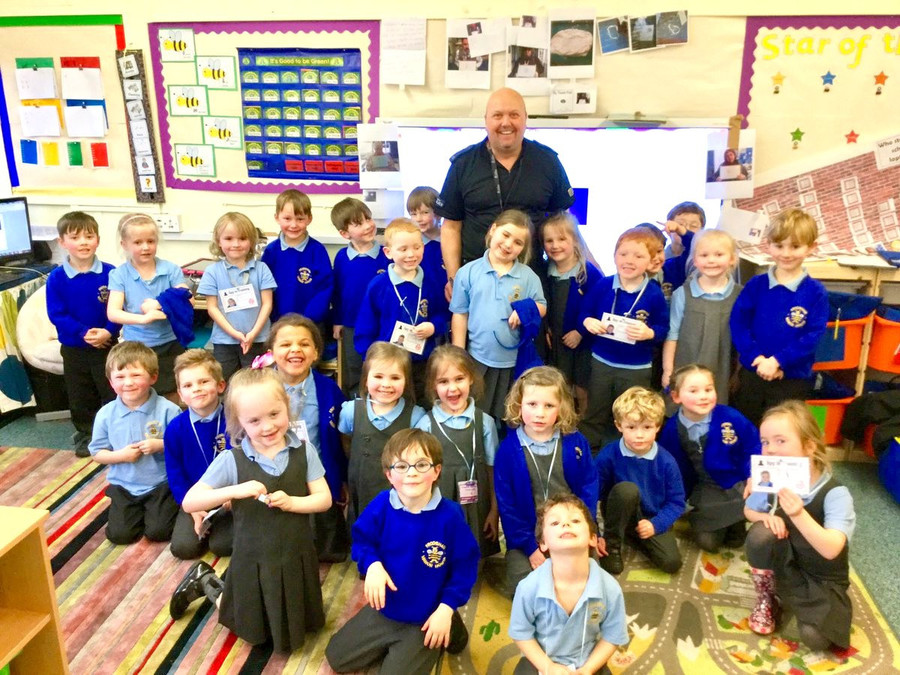 During the week the different suspects were eliminated from our enquiries as additional evidence was found, including half eaten apples, finger prints and CCTV coverage. By Friday we were left with two key suspects, Mrs Anstice and Mr Devereux-Roberts so a trial was called for the afternoon.
Potter and Carroll's slideshow below.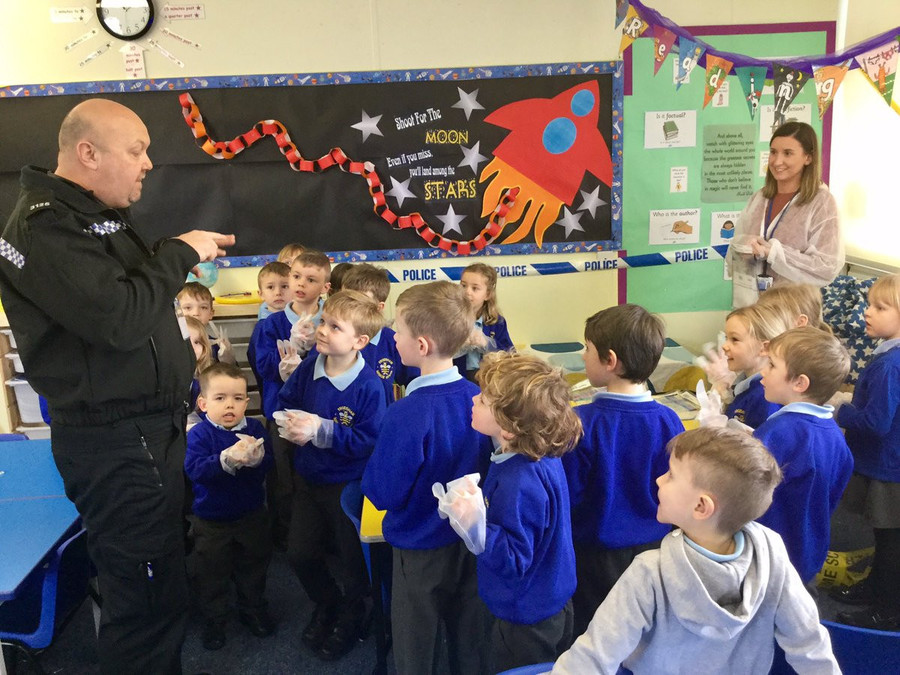 Friday's trial was presided over by Judge Ian Anstice (conflict of interest!) . We had 12 members of the Jury including the Foreman. Barristers, Ushers, Stenographers and Dock Guards were appointed in Tolkein Class and all classes presented a range of evidence and forensic findings which they had worked on over the week. Mr Devereux-Roberts and Mrs Anstice were sworn in by Miss Hall as they promised to tell the truth to a knitted bumble bee! Eventually Mrs Anstice was found not guilty and believed to be framed, Mr Devereux-Roberts had to confess after last minute evidence submitted by P.C. Matthews.

Well done Miss Carmody on organising a fantastic science week, thank you to all the suspects who were questioned and tested all week, and to the staff for enabling scientific enquiries in class.
Some Twitter feedback;
Elizabeth - Looks like a fun way to learn about science
Nic - I think Miss Hopley with the glasses, are you trying to hide something?
Matthew - Nothing this interesting ever happened at my school. Got to love Frodsham Manor.
Vicki - Hope all the children enjoy being detectives this week. L & O haven't stopped talking about it.
Sarah - Love it!
Helen - J is convinced that it's a real crime.
Liz - Great fun last night as the children argued the cases for who they suspect, they had all changed their minds by this morning!
Nic - That was also our tea time chat, we still think Miss Hopley!
Helen - Our school are doing some fantastic stuff for science week, my kids think it's fantastic!
Elizabeth - Spotted, Mr D-R near Delamere, is he making off with the loot?
Holty - What a brilliant week! Capturing the imagination of children brilliantly. You are all fantastic, been discussed in great detail at home all week! #inspiringyoungminds #greatschool #makinglearningfun #greatplace
Lynne - I reckon the Headmaster in his office. Waiting in anticipation to see who the suspect it. (
Sara - Lots of speculation here, can't wait to hear the update tomorrow. Fab week!
Matthew -I'm making an accusation, Mr D-R in the classroom with the chocolate cake!
Elizabeth - It was good fun, I enjoyed learning about fingerprints. (I). Science week was lots of fun especially the chromatography. (M) It was so much fun, I enjoyed learning with P.C.Matthews. (G)
Helen - F thought it was so good and all the investigations so much fun.
Lynne - Throughly enjoyed your crime week. Well done to all involved.
Dawn - Lots of fun this week being detectives and forensic scientists. Great idea and planning.
Nic - L & T really enjoyed science week. It's been our tea time topic every evening.
Helen - B & L have really enjoyed this week and gathering the evidence. L thought Mr D-R's scream was very funny!
Alan - E and G have loved science week. E has come home and continued the experiments with chromatography.
Mr Crowly - Solicitor Crowly enjoyed herself this week. She went in fully armed with her evidence today. I love the whole school approach.
Catherine - A fab week, O has loved it. I walked in tonight to shouts of "It was Mr D-R!" You have brought science to life, thank you.
Cath - Wow, fantastic science week. E has throughly enjoyed the suspense and excitement, fab work Manor House Team. J sad he missed it.
Craig - Superb week for A. Haven't been able to shut him up explaining what he has done and who he suspected.
Sian - A has had the most amazing week, we've never heard so much about school off him.
Sarah - M has enjoyed science week, great week for learning!
Annette - A and A have had a fantastic week in school, love how you make learning fun.
Chell - I'm still hearing all about how fun science week was. What a great way to learn. I think this will always be remembered.
Sally - A fantastic week. Highlights for us, learning about DNA, it's fascinated him (A) , exploring fingerprints (E).