Welcome to "The Buzz"! This is our weekly blog by My Devererux-Roberts which tells you about what has happened in school this week and what we are looking forward to during the following week. It is normally published on a Friday afternoon and is one of the options on the home page of the App for quick access. If you do not have the school app then search for "School Jotter" on your provider then once downloaded take the option for Frodsham Manor House School.
The Buzz
Ian Devereux-Roberts (IDevereux-Roberts) on: The Buzz
What's in the news:
Our after school enrichment offer has been well recieved and I extend my thanks to staff members for providing these clubs. As always the clubs have been oversubsribed. You will recieve a text message next week confirming which club children have been allocated to.
Our new family - Reuben and Isabella - have been made to feel most welcome in their first week in school. Thank you Year 3 and Year 5 for being so kind and caring.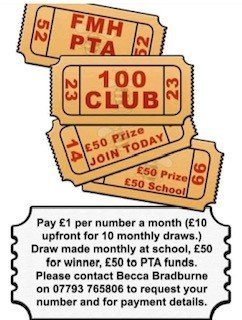 Thank you to those school families who have purchased a number or numbers to be part of this year's PTAs 100 club fundraiser. This is a chance to win a monthly prize whilst at the same time supporting the fundraising efforts of the PTA. If you haven't done so already, please consider purchasing a number - details are outlined above. The first draw will take place in October. Thanking you in advance for your support.
A Supersonic Phonics newsletter - compiled by Mrs McGrath and Mrs Pye - has been emailed out today.
What's happened in school this week:
In assembly on Wednesday we spent time discussing 'Our Golden Rules' particularly why these rules are important for everyone in school. Our Golden rules are:
• We respect each other with our words and actions
• We look after our school environment and school property
• We are gentle and fair
• We listen
• We follow instructions and always try our best
These rules are embedded in our 'Behaviour for Learning' policy which the staff have currrently reviewed based on a trauma informed approach to behaviour management which the local authority is asking all agencies to adopt. Once approved by the Governing Body the policy will be shared with all school families. The immediate difference that you will see is the 'It's Good to be Green' scheme is no longer a part of the policy and you may here your child using the phrase reflection time. We are of the firm belief that our new policy promotes a positive discipline approach when dealing with behaviour expectations in school.
Rashford class had a fantastic day on Thursday for their Ancient Greek experience day. Year 4 have started to investigate this half terms big question "How have the Ancient Greeks impacted on our live today?". On Thursday they came into school looking amazing their togas and tunics; they found out more about ancient Greeks clothing; took part in a banquet and tried lots of foods including- anchovies, goats cheese, honey, olives, hummus and olive oil. They also smashed grapes with their feet to make 'wine' using the traditional method. Alongside this, they created a head wreath and decided what ancient Olympic game they would imagine they could win! A fun day was had by all!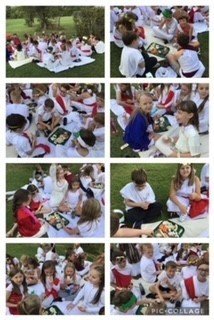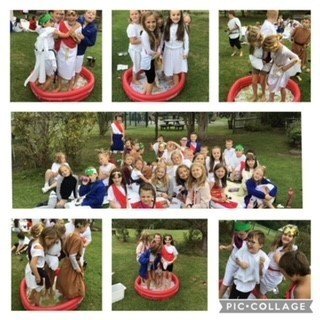 Our whole class instrument tuition has begun with Parks Class this week and saw the children trying to create a note on an instrumen. I always love this time of the year as they begin to master playing a new instrument - the only direction of travel is to get better!!!!
Parks class had a fun today celebrating Comic Book Day today. We designed and made our own superheroes, whilst dressed in our own costumes. We even designed and made our own masks to wear too! The first Spread the Happiness Day of the new school year.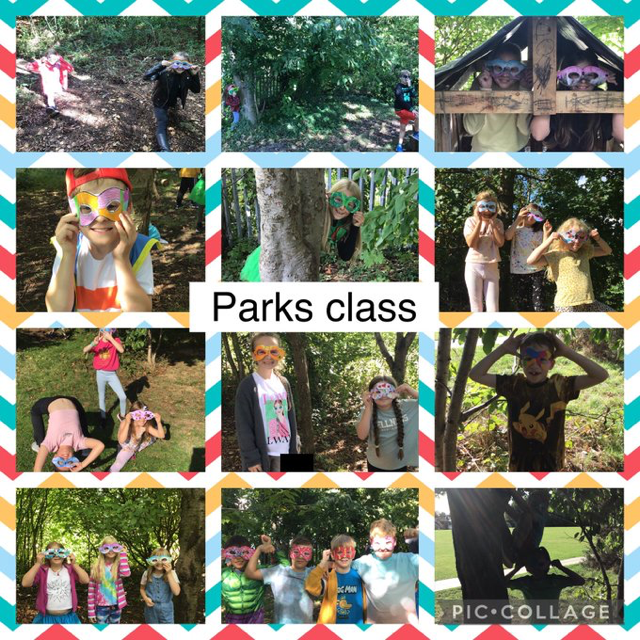 What's made me smile in school this week:
Seeing Rashford Class immersing themselves wholeheartedly in their Ancient Greeks Day made me smile lots - although I will pass on the wine they created!!!
Head Teacher Awards
Nathan (Rashford Class) for his sentence work in literacy.
Henry (Rashford Class) for completing the summer reading challenge.
Cosmo (Attenborough Class) for his additional home learning on materials.
James (Armstrong Class) for completing the summer reading challenge.
Thomas (Marvell Class) for his outstanding bravery.
James T (Attenborough Class) for completing the summer reading challenge.
Sophie J (Parks Class) for her kindness and support of a friend during a fire alarm practice,
Seb (Nightingale Class) for his excellent piece of writing 'All About Seals'.
Doodlers of the week - Barnaby (Attenborough Class); Vade (Nightingale Class); Jayvin (Parks Class); Seren (Marvell Class); Nathan (Armstrong Class); Ella (Rashford Class) and Austin (Darwin Class)
Presentation Awards:
Vade (Nightingale Class) for his report writing planner.
Our Celebration Assembly Superstars: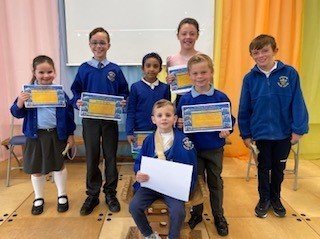 Marvell Class: Thomas for his bravery and resilience, along with his msile and his determination.
Armstrong Class: Lewis for his outstanding attitude to learning; his role play skills and his literacy skills, including a story written at home with daddy.
Attenborough Class: Bethia for her smiley disposition; for her beautiful handwriting amd her love of learning.
Nightingale Class: Heeya for her knowledge about nature; for her teamwork skills creating a marshmallow volcano and her super topic work.
Rashford Class: Seb for his sporting prowess and his participatioin in Ancient Greek day.
Parks Class: Ella for her gymnastics skills and her literacy skills.
Darwin Class: Isaac for excellent contributions to class discussions; his kindness and for his WWII work.
Our 'Spread the Happiness' Superstars: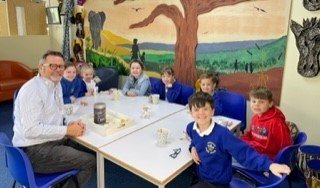 The following children enjoyed a drink of hot chocolate and a biscuit, along with a chat with Mr D-R, as they were selected to receive the special 'Spread the Happiness' award this week:
Ruby (Marvell Class) for settl;ing in so well to Marvell Class and always looking out for others.
Jack (Armstrong Class) for coping so well with all the appointmants he has had to attend this week and coming back inti school with a smile.
Matilda (Attenborough Class) for always showing a love of learning.
Hughie (Nightingale Class) for being kind and helpful and showing super organisational skills.
Robyn (Rashford Class) for taking part brilliantly in the Ancient Greek Day activities.
Alex (Parks Class) for his beautiful poem this week.
Rose (Darwin Class) for super effort during tag rugby training
Happy Birthday:
In our Assembly we congratulated and signed Happy Birthday to maxwell, Holly-Jo, Zoe and Elizabeth. . If you have celebrated your birthday this week, then many happy returns from us too!
Dine with a Friend Friday
The following children, with a friend, had the opportunity to sit at the special table in the school hall to enjoy their lunch on Friday:
Alfie S, Zishan, George B, Olivia, Barnaby, Ruby and Euan
Winning House Team:
The winning team this week was Thirlmere - congratulations to everyone in green team who accumulated 624 team points. Blue team was in second position having accumulated 570 team points; red team was in third position having accumulated 518 team points and red team was in fourth position having 503 accumulated team points.
What we are looking forward to next week:
France and Belgium residential visit - Monday 26th to Friday 30th September - Year 5 and Year 6.
---