Frodsham Manor House Primary School is an attractive Primary School formed on the 1st January 1994, by the amalgamation of the former Manor Junior and Orchard House Infant Schools and is situated on Langdale Way, Frodsham.
Our school vision is 'Hand in hand, we imagine, we believe and we achieve' and we do this by offering an exciting, themematic and rich curriculum in conjunction with a happy caring environment where all children can enjoy the learning process in an atmosphere of excitement, enthusiasm and support. Click here to find out more about our Vision.
Frodsham Manor House pupils, through dedicated support, develop a love of learning and portray all those wonderful skills and attributes that make you very proud of them. They are all wonderful ambassadors for the school and demonstrate empathy, compassion, enthusiasm and fun in all that they do and how they are with one another.
School has 217 pupils on roll and has an extremely supportive Governing Body and a parental community which supports their children superbly during their time at school. We welcome visitors so we can show them how we learn and how proud we are of our school.
Ian Devereux-Roberts
Head Teacher
The Buzz
Ian Devereux-Roberts (IDevereux-Roberts) on: The Buzz
What's in the news:
Please once again accept our apologies for the mix-up that has occurred this week in relation to school photographs being taken. A new date has now been set for Thursday 17th October. As you can see in the Milne Class photograph, the children all came in looking amazing for their photograph as did all the children - so thank you. Fingers crossed they'll look just the same in a couple of weeks!! I know for those parents who came for the pre-school sibling family photographs, getting ready for 8.30am was no mean task so profound apologies to you especially.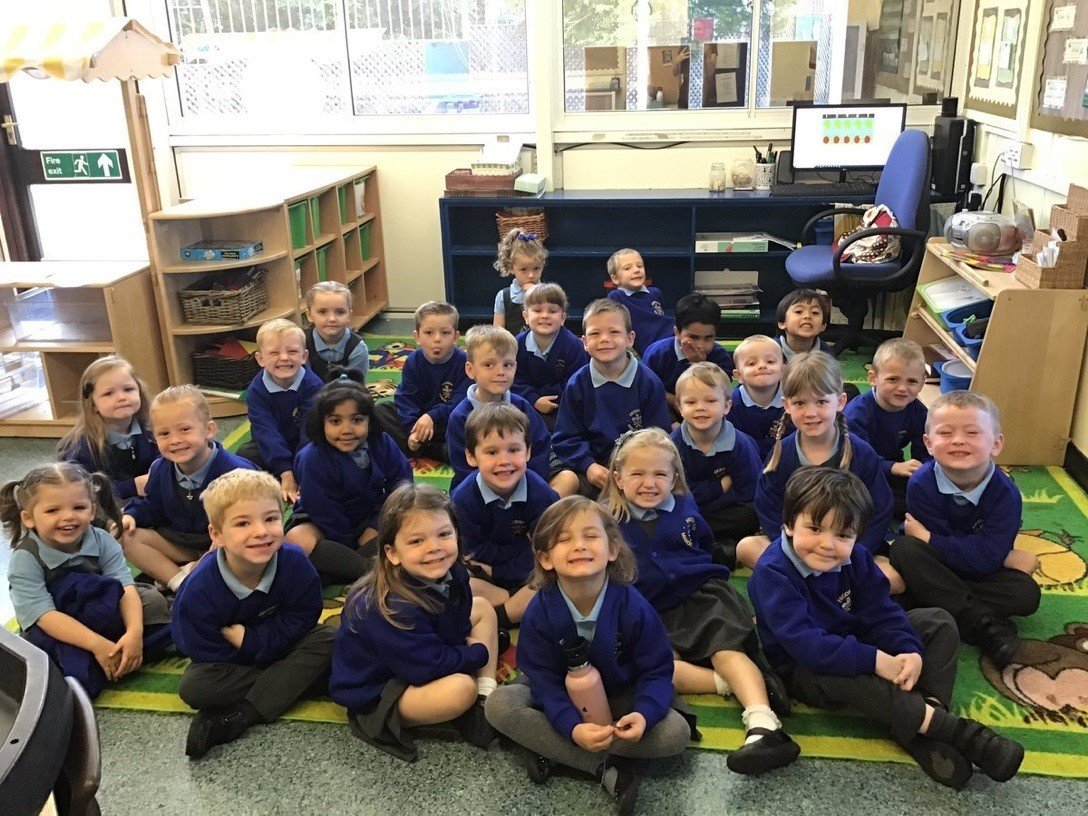 How lovely it has been seeing home learning being shared on our Twitter feed. With the teachers now in possession of their own class's Ipad, sharing photographs and news via Twitter is a wonderful way of celebrating what has been happening in school. Carroll Class have been busy reading in a range of unusual - as can be seen in the photograph below.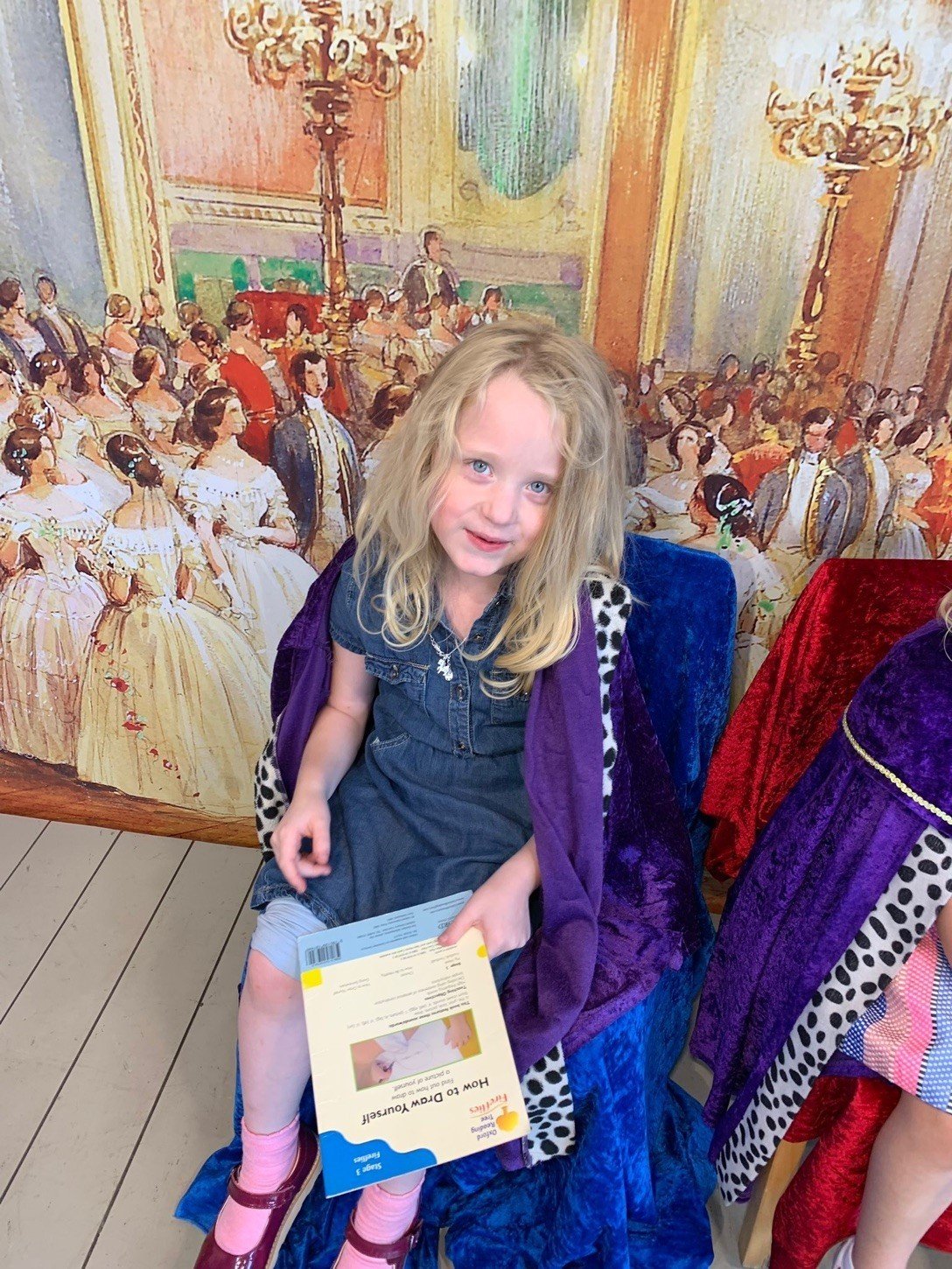 Due to being notified of transition events taking place next July at Helsby High, we have had to alter the dates of our KS2 production. The new dates are 30th June and the 1st and 2nd July.

What has happened in school this week: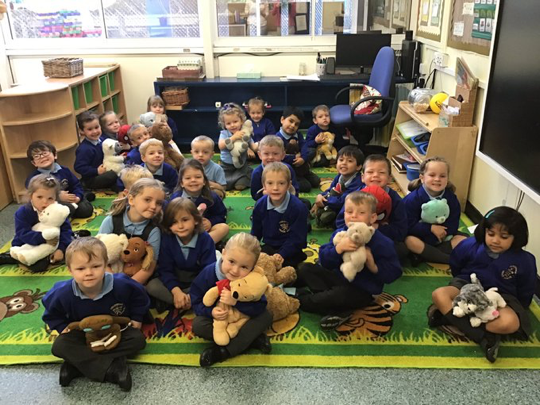 Milne Class had a 'spread the happiness' day on Monday as it was 'Teddy Bear Day'. As you can see from the photograph, we had double the amount of bodies in Milne Class. All the teddies were very well behaved Mrs Hughes assured me!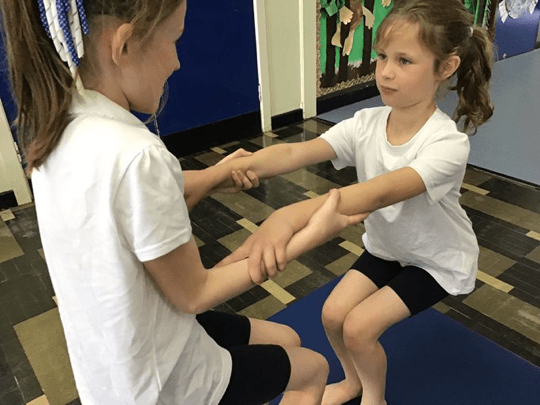 Our gymnastics coach Mr Bell has returned to school year and will be teaching gymnastics to Years 1 - 6 over the course of the year. Year 5 and Year 6 will be working with Mr Bell this term.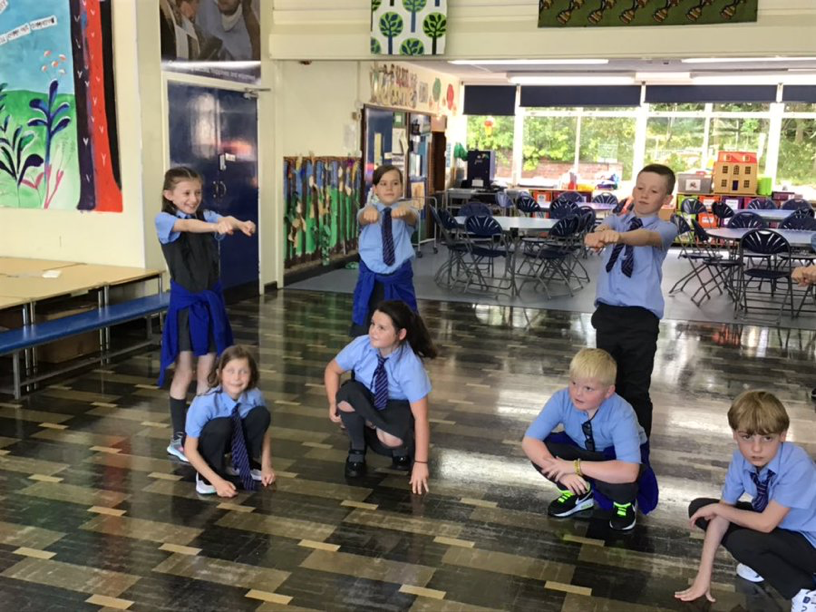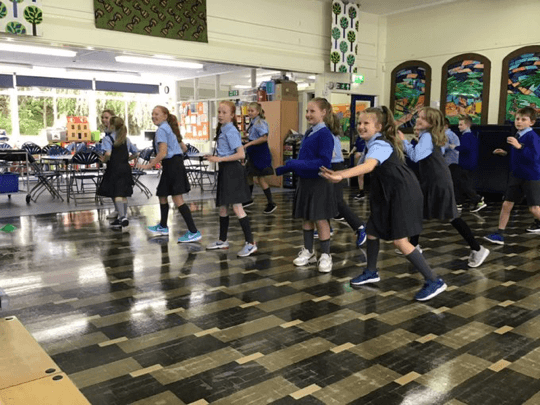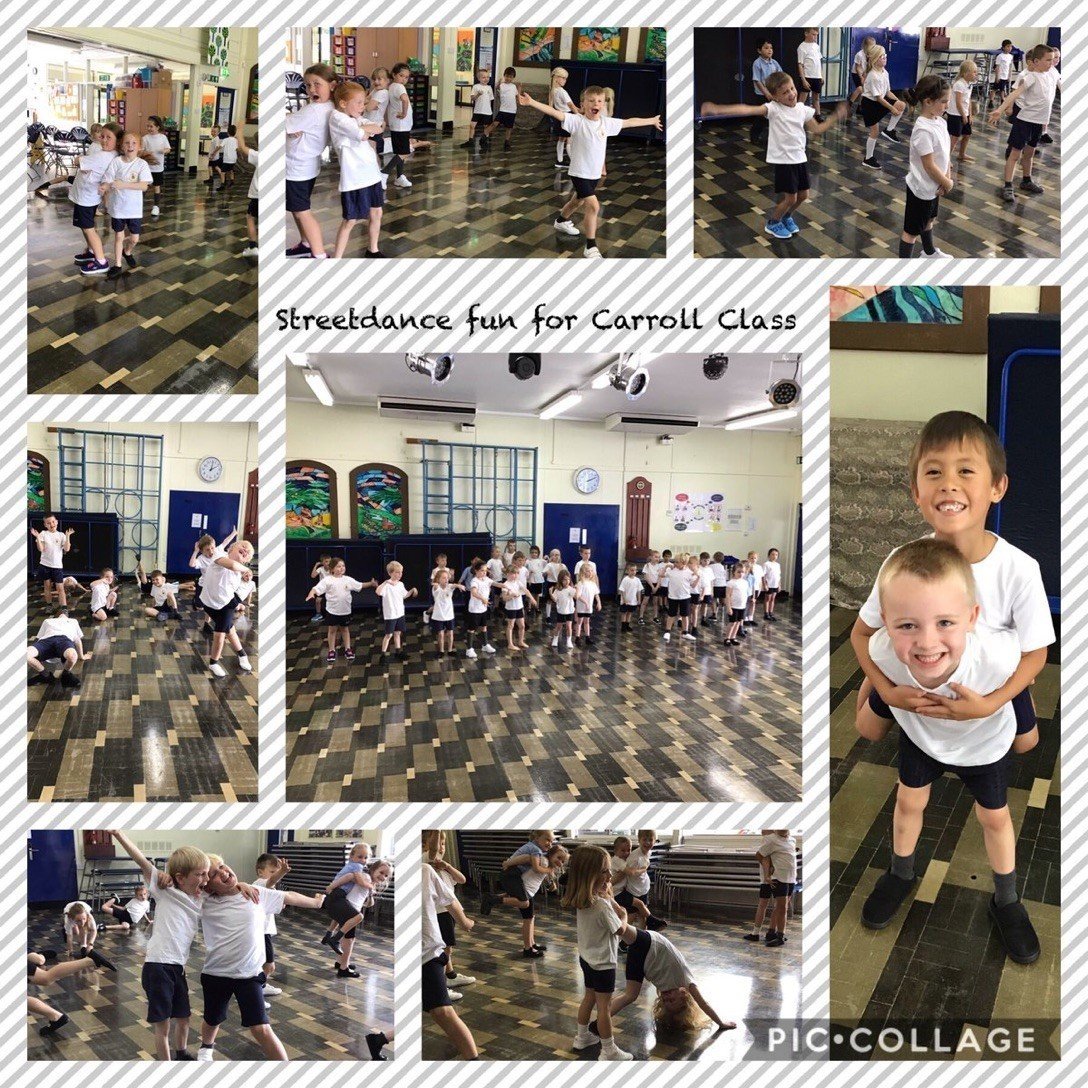 All classes had a streetdance taster session on Tuesday this week. A great day was had by all. Our streetdance club will be running this term - details have already be sent out.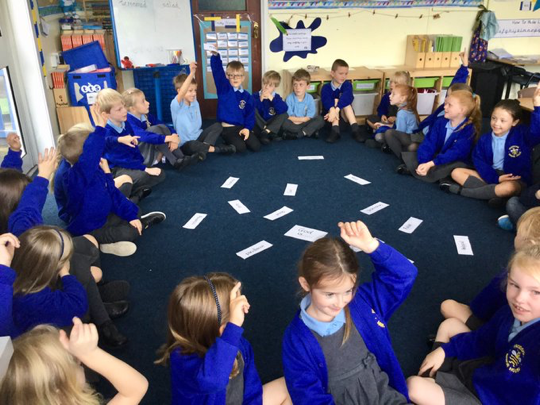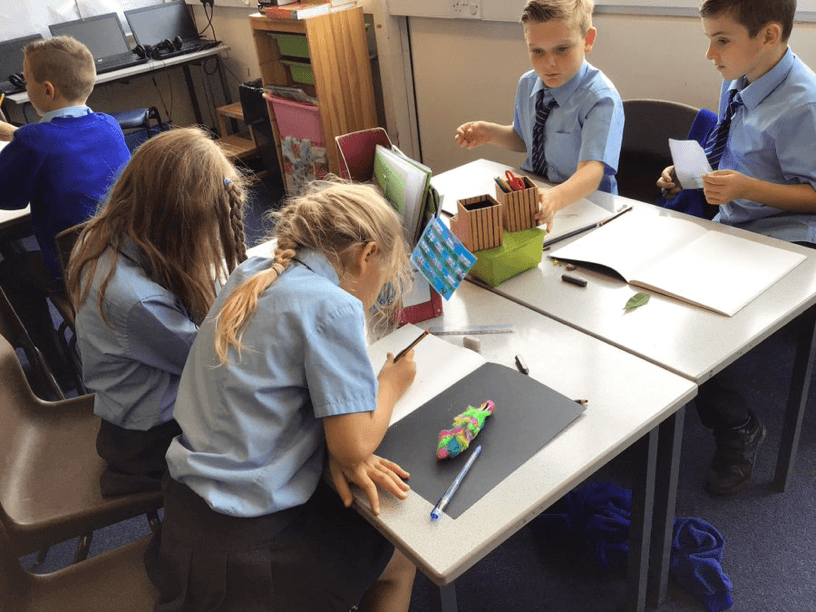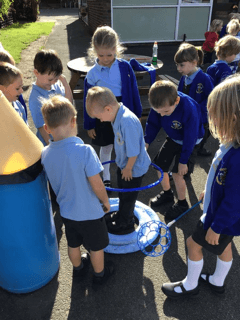 RE lessons have begun this delivered by Mrs Anstice - lots of discussions taking place. Year 4 have been concentrating on their sketching skills this week and Potter Class have been enjoying playing with bubbles - as did Mrs McGrath too!!
What has made me smile this week:
Seeing all the amazing learning that has taken place in school has made me smile lots this week. My Twitter notifications have been pinging every day!
Headteacher Awards:
Ruby P (Tolkien Class) for her accuracy in solving decimal subtraction questions.
Samuel B, Katie , Vianne and Eva (Potter Class) for completing the Space Chase Summer Reading Challenge.
Grace (Carroll Class) for completing the Space Chase Summer Reading Challenge.
Natalya (Lewis Class) for her super 'secret wishes' poem - amazing imagery.
Jaxon (Carroll Class) for amazing listening skills and working hard.
Aidan (Carroll Class) for excellent contributions during maths discussions and in poetry work.
Nathan (Potter Class) for having an amazing start in Year 1.
Jack O (Lewis Class) for his hard work in maths this week.
Sophie E (Carroll Class) for her excellent sorting of nouns, adjectives and verbs and then composing sentences.
Izzy A , Phoebe F and Liv (Tolkien Class) for their beautifully composed 'Magic Box' poems.
Issy G and Amelia (Tolkien Class) for heir help at the end of the summer term in relation to book sorting.
Phoebe F (Tolkien Class) for completing her Space Chase Summer Reading Challenge.
George (Carroll Class) for being an amazing and supportive friend.
Marcus (Shakespeare Class) for completing his Space Chase Summer Reading Challenge.
Aiden, Alfie, Olivia, Charlotte and Zac C (Lewis Class) for completing their Space Chase Summer Reading Challenge.
Alex, George, Martha, Rachel and Thomas (Carroll Class) for completing their Space Chase Summer Reading Challenge.
George, Jacob, Adam, Chloe, Erin, Luca and Aysha (Dahl Class) for completing their Space Chase Summer Reading Challenge.
Shane (Potter Class) for his amazing recall of Titanic facts.
Henry and Phoebe (Milne Class) for completing their Space Chase Summer Reading Challenge.
Our 'Spread the happiness' superstars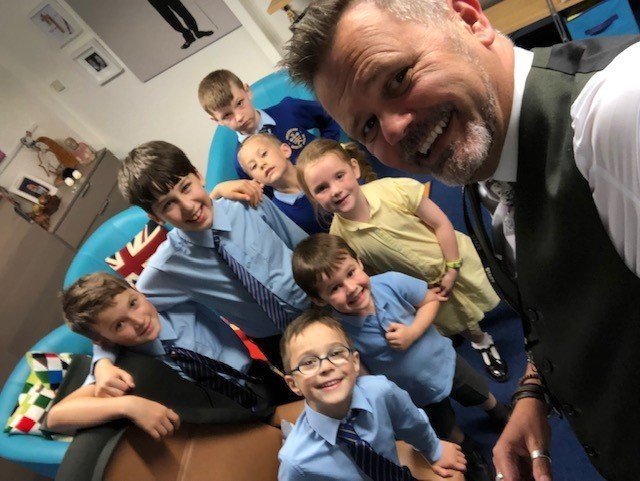 As detailed in the 'Welcome Letter', we have started a new award celebrating 'spreading the happiness'. Hot chocolate Friday took place for the second time this week. Congratulations to:

Seb (Milne Class); Zac (Potter Class); Marnie (Carroll Class); Isaac (Dahl Class); Alex (Lewis Class); Jack (Shakespeare Class) and Rhys (Tolkien Class)


I am loving this opportunity to chat to the children, not only about why they had been selected but for hearing all about their news. We even shared jokes on the wrappers of the penguin biscuits we were enjoying with our hot chocolate dink. What did the penguin wear on the beach? a pen - kini.
Our Celebration Assembly superstars: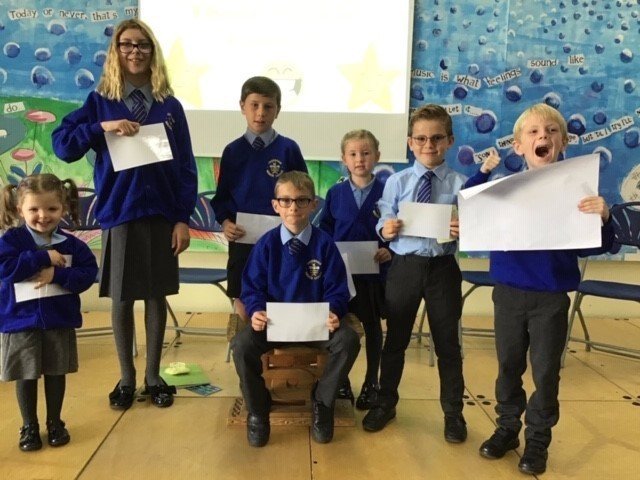 Milne Class: Ckara-Caleighsi for completing busy jobs with no fuss and for her excellent self portrait.
Potter Class: Eva for her amazing manners and always trying her best.
Carroll Class: Bruce for his focus and commitment towards his learning.
Dahl Class: Harley for super listening and his amazing attitude to his learning.
Lewis Class: Ben for showing excellent manners and having a super attitude towards his learning.
Shakespeare Class: Joshua for his outstanding attitude to learning.
Tolkien Class: Ella G for sharing her ideas and her beautifully composed poem.
Friday Top Table:

The following children, with a friend, sat at the special dining table on Friday 13th September as they had been chosen by the Midday Assistants for exemplary manners and behaviour at lunchtime:

George (Milne); Ella (Potter); Poppy G (Carroll); Jack L (Dahl): Poppy T (Lewis); George (Shakespeare) and Izzy A (Tolkien).

The Winning House Team:

The winning house team for this week was red team (Coniston) with 1425 points: yellow team (Grasmere) second with 1411 points; green team (Thirlmere) third with 1234 points and blue team (Penrith) fourth with 1050 points. Congratulations to everyone in red team for this week.

Happy Birthday:

In our special Celebration Assembly, we sang Happy Birthday to Dexter, Jakob, Ryley, Robyn D and Finn. Many happy returns from us all if you have celebrated your birthday this week and next too.

What we are looking forward to next week:
Mad Science Assembly - Tuesday 17th September.
Installation of our external gym equipment - Tuesday 17th and Wednesday 18th September.
Delamere Forest visit - Survival training - Wednesday 18th September.
Life Education Caravan - Thursday 19th and Friday 20th September.
Jeans4Genes Day - Friday 20th September.
---